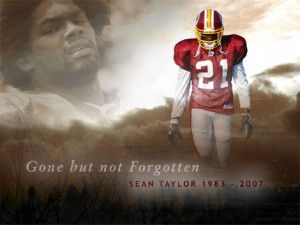 It has been over 5 years since the fateful day and death of one of the greatest and hardest-htting safeties in the National Football League.
Sean Taylor, number 21 (and also 36) was known for his intense athleticism and ability to literally rock opponents.
He, along with Laron Landry (number 30) were known as "Area 51," covering the backfield and delivering spine-crunching hits that kept players hearing footsteps.
As a fan, I still to this day wish he were still on our team and alive.
I still wear his jersey all the time; coincidentally, my brother and I bought one each a week before he died.
Let this video of his highlights celebrate all he did for the league, as well as make you wince a little bit.
R.I.P. Sean Taylor (April 1, 1938 – November 27, 2007)