We can all take a giant, relaxing breath of fresh air…he's back.
Last week, on March 25, Redskins announced that they had re-signed Fred Davis.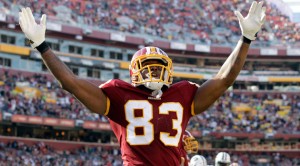 Davis has been an incredible playmaker since he first arrived in Washington in 2008, compiling 155 receptions, nearly 2000 receiving yards, and 12 touchdowns.
The injury last season is what made Coach Shanahan initially hesitant on re-signing Davis, who had a franchise tag placed on him the season before.
However, as fans, we are eternally grateful to have him back. The other tight ends, Niles Paul and Logan Paulsen, are simply not up to the par that Davis is on.
This 2013-2014 season looks exponentially bright for the Redskins and this addition of Davis is just emphasizing the possibilities of the future on this Washington team.