It seems like this Washington team truly believed the squad they had last season was a sacred bunch.
After dropping DeAngelo Hall to remain under the salary cap, the Redskins negotiated an undisclosed deal to bring him back to the Hogs.
Hall was known for his ability, as well as attitude; he was kicked out of a game against the Pittsburgh Steelers last season for mouthing off to the officials, taking his helmet off, and possibly using profane language.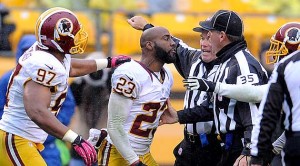 But it's Hall, come on.
Crazy temper aside, Hall is a good player, recording 4 interceptions last season, many of which proved to be game-changing factors.
As good as he is, he has been known to let many receivers burn him in the past, and I was a little excited for some more diversity from last year's bunch.
Either way, he is a good player and I hope he proves to make a difference this upcoming season.